#STOPATRED ROAD TRAFFIC CAMPAIGN RALLY: DRIVING SOCIAL CHANGE THROUGH THE SDGs – FUNDACION EXITO LTD./GTE. (FUNDELG AFRICA) CONTRIBUTION TO "GOAL 11" OF THE UNITED NATIONS 2030 AGENDA FOR SUSTAINABLE DEVELOPMENT GOALS (SDGs)
UN SDGS Goal 11
Making our cities and human settlements inclusive, safe, resilient, and sustainable by driving social change through the SDGs.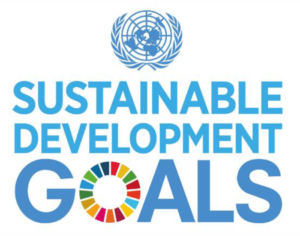 With its global and overarching developmental approach, the United Nations (UN) Agenda 2030 for Sustainable Development is highly relevant to Fundacion Exito Ltd./Gte. ("FundELG Africa") because our main goal from inception in 2013 is contribution to sustainable, national and trans-generational development and influence.
FundELG Africa is an organisation focused on national transformation through social change, values re-orientation and trans-generational influence. Working with young people as a catalyst; our contribution must therefore focus on values; not just in their own right, but as important factors of sustainability for any societal model.
Our approach is that most of FundELG Africa's activities are critical, relevant and contribute significantly to the implementation of the UN Agenda 2030. On the UN Day, October 24, 2019, FundELG Africa inaugurated the #StopAtRed Road Traffic Campaign Rally as a link to 'Goal 11' of the UN Sustainable Development Goals (SDGs) – "Sustainable Cities and Communities" – which is geared towards making our cities and human settlements inclusive, safe, resilient and sustainable.
The unique added value of the FundELG Africa #StopAtRed Rally is a celebration of a combination of:
The UN Day: A Commemoration of the entering into force of the UN Charter on October 24, 1945 to ensure international peace, security and co-operation among member nations;
The SDGs Goal 11 (encapsulated under the Economic Development and Humanitarian Assistance objective of the UN as a part of Resolution 70/1 of the United Nations General Assembly 2030 Agenda): "Sustainable Cities and Communities" – which is geared towards 'Making our cities and human settlements inclusive, safe, resilient and sustainable'; and
The National Youth Service Corps (NYSC) programme set up by the Federal Government of Nigeria to involve Nigerian graduates and youths in nation building and the promotion of national unity.
The 2019 launch took off from the Unity Fountain, Abuja; as a national monument representative of our faith as Nigerians in one united and indivisible country – in the wake of multiple agitations across the country.
Over several decades, nations across the globe have recurrently proven that change can happen when ordinary people come together and organise themselves and their communities for a common cause; because if we want to achieve the change we seek, we'll need a strong, dynamic and values focused citizens' movement leading the charge. This is what gave rise to the #StopAtRed Road Traffic Campaign & Rally.
Components of the Road Traffic Campaign
The #StopAtRed Road Traffic Campaign & Rally has three (3) main components which are carried out in three (3) phases over a maximum period of three (3) months from August – October 24 each year, viz:
The

#

StopAt

Red

Media Engagement (Conventional & New Media Engagements): August – October;
The

#

StopAt

Red

Pre-Rally Engagements (Churches, mosques, academic Institutions meetings & Engagements – Physical Engagement and public awareness campaign, engagement with relevant Federal and State Government Agencies): September; and
The

#

StopAt

Red

Rally (The Walk as well as the distribution of flyers and stickers): October 24.
The Road Traffic Campaign Rally
Also, one of the featured United Nations Targets for Goal 11 includes that by 2030, there should be access to safe, affordable, accessible and sustainable transport systems for all, improving road safety, with special attention to the needs of those in vulnerable situations, women and children, persons with disabilities and older persons. The #StopAtRed Road Traffic Campaign Rally is geared towards promoting this target in Nigeria.
The 24th day of October every year is celebrated as the United Nations day and it is devoted globally to making known the aims, objectives, achievements and impact of the United Nations; as well gain support for its work. As part of the strategy for achieving Goal 11- Sustainable Cities and Communities, FundELG Africa therefore organises the #StopAtRed Road Traffic Campaign Rally on October 24 annually.
The #StopAtRed Rally is a segment of #TheGreenCampaign, a strategic National Re-Birth Project created by FundELG Africa to promote adherence to traffic rules, making the roads safe, keeping the environment tidy by road users especially drivers; and thus make our cities and human settlements inclusive, safe, resilient and sustainable. This is because, according to the UN statistics, by 2030, almost 60% of the world's population will live in urban areas, and most of that urban expansion will be in the developing world. Rapid urbanisation puts pressure on the systems infrastructure and as a result, we must embrace all efforts and the social benefits of cities by making sure they are orderly, safe for everyone and sustainable for decades to come.
It is imperative to note that, road traffic crashes are one of the world's largest public health problems. The problem is all the more acute because the victims are overwhelmingly healthy before their crashes. According to a World Health Organisation (WHO) report, more than 1 million people are killed on the world's roads each year; and traffic collisions are the leading cause of death among children 10–19 years of age. The report also noted that the problem was most severe in developing countries and that simple prevention measures could halve the number of deaths.
The #StopAtRed Rally is generally carried out in partnership with the National Youth Service Corp (NYSC), Secretariat in the relevant state, with the NYSC members currently serving in the city as major participants, as well as the Federal Road Safety Commission (FRSC); with support from other well meaning Civil Society Organisations (CSOs) and academic institutions, to mention a few. This partnership is imperative because of the need for collaboration to attain the SDGs and also as it would help inculcate discipline in the NYSC members, other youths and students who are the future leaders of Nigeria by instilling in them a sense of nationhood ideals, patriotism, service, citizenship, leadership integrity, solitary principle, honour and national identity.
Objective of the

#

StopAt

Red

Rally: Promoting the SDGs Goal 11 & Road Safety Awareness;
Intended impact: Road Discipline, Road Safety, a National awakening to right doing, curbing impunity, instill a sense of discipline in Nigerians in general and road users in particular as well as National Transformation through Mind Re-Engineering. The

#

StopAt

Red

Road Traffic Campaign & Rally, a segment of

#TheGreenCampaign

of FundELG Africa was birthed in August 2015. The immediate and short-term objective of the Campaign is to promote the SDGs, discipline by Road Users and safety on Nigerian roads, whilst the long term goal and fundamental objectives is a trident of promoting: (a). Patriotism in Nigerian Citizens; (b). Behavioural/Attitudinal Change in Nigerian Citizens as a catalyst for evolving a National Ideology and resultant National Transformation and Re-Birth; and (c). National Discipline and respect for the rule of law in all spheres of our National existence.
Who can/should participate: Every Nigerian Citizen and Resident;
How to Participate: (a). Active physical participation, publicity, and mobilisation; (b). Financial support; (c). Both (a) & (b)
Dress Code: NYSC, Public Officers & Students – Uniforms | The Public – A Touch of White & Green.
FundELG Africa is focused on altering systems for the re-engineering of the next generation of leadership in Nigeria, and for the evolution of a new Nigeria. This is for the benefit of Nigerians, as would be created by Nigerians who believe in Nigeria; and we believe that to change the future, you must begin the process of cultivating the people today. Ho Chi Minh, former Prime Minister of Vietnam said: "To reap a return in ten years, plant trees. To reap a return in 100, cultivate people."
The ultimate vision of the #StopAtRed Road Traffic Campaign thus being to build personal and collective leadership values, character, integrity and credibility as well as individuality and nationhood in every Nigerian Citizen one man, one idea and one change at a time. We believe the vision for a great Nigeria must be created and owned by each citizen first, before we can collectively evolve as a Nation!
Previous Projects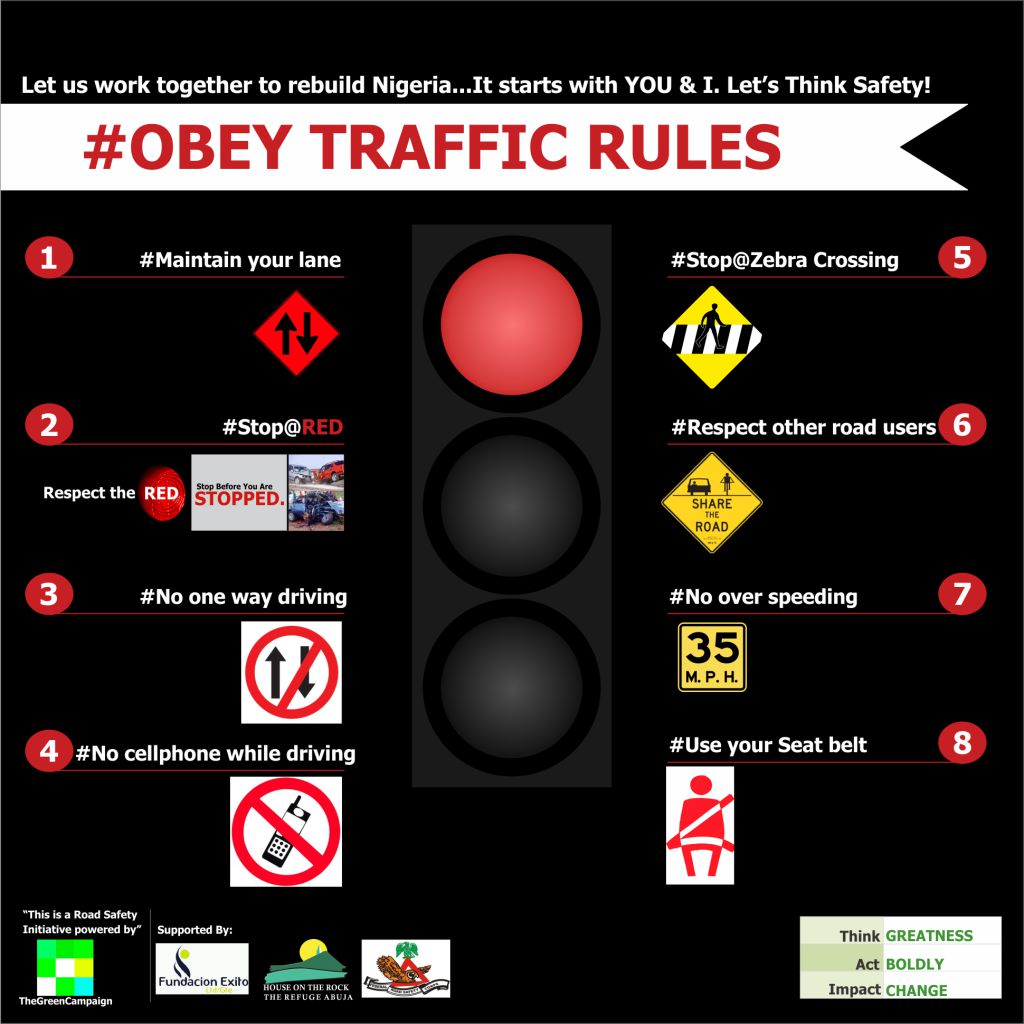 Our Partners